Here is a tasty gluten-free quinoa based brownie recipe that uses no dairy, flour, or sugar.
Total prep time: 6 min
Total cook time: 30 min
Yield: 9 squares
Ingredients
3/4 cup xylitol
1/2 cup organic quinoa
1/2 cup organic cacao powder (can also use carob powder)
1/4 cup nut milk (almond, coconut, hemp or rice milk)
2 eggs
2 tbsp avocado oil
1 tsp baking powder
1 tsp liquid vanilla extract
Directions
1. Cook quinoa – boil 1 1/2 cups of water in a small pot, stir in quinoa.  Reduce heat to low, and cover for approximately 20 min. Remove from burner and let stand for 5 min.  Transfer to mixing bowl, and let cool to room temperature.
2. Add all ingredients to mixing bowl and mix thoroughly.
3. Add mixture to 8 inch / 2 litre baking pan, and bake at 350 degrees ferinheight for 30-32 minutes.
4. Remove from oven and cool.  Cut in to 9 squares.  Serve with strawberries, or your favourite fruit.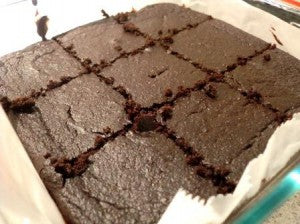 Nutritional Information
Serving size: 1 brownie
Calories: 163
Fat: 5.4g
Carbohydrates: 11g (0.4g sugar)
Protein: 4g
Please try this recipe and leave some feedback below!