There is no better snack than a freshly baked, still warm muffin. These banana muffins have the amazing soft texture of a typical muffin, but with a twist- they're green! The idea of green spinach muffins might seem weird at first, but these muffins are just as delicious as they are nutritious.
Why these muffins are a healthier alternative:
Firstly, these spinach muffins obviously contain spinach, and a lot of it too. Spinach is high in vitamin C, vitamin K, carotenoids and iron.
Secondly, instead of using butter, these muffins use greek yogurt and olive oil for a moist texture. Greek yogurt is great for protein and olive oil is a heart-healthy monounsaturated fat.
As for a sweetener, this recipe uses only a banana and 1/3 a cup of pure maple syrup. This way, the muffins are naturally sweet without using white or brown sugar! You can even choose to use less maple syrup if you don't have as much of a sweet tooth.
Finally, these healthy spinach muffins are super easy to make! The recipe is below.
Ingredients
 1/2 cup of greek yogurt
 1 egg
 2 tsp vanilla
 2 cups baby spinach
 1 medium banana
 1/3 cup pure maple syrup
 2 tbsp olive oil
 1 1/2 cups whole wheat flour
 1 tsp baking powder
 1/2 tsp baking soda
 1/2 tsp salt
Method
Preheat the oven to 350°F. Blend together the wet ingredients (numbers 1-7) in any regular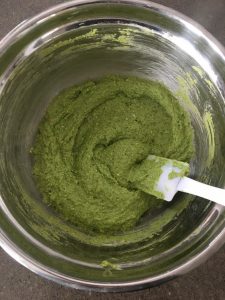 blender. In a large bowl, combine the dry ingredients (numbers 8-11). I sometimes like to add a handful of flaxseeds to the dry ingredients during this step.
Once combined, pour the blended wet ingredients into the bowl as well, stirring both together to create a light green batter. Then you can spoon the batter into a sprayed muffin tin. This amount of batter will make around 9 to 12 muffins, depending on their size.
Bake the muffins for 15 to 20 minutes, or until slightly firm. Afterward, remove them from your muffin tin and let them cool. That's all! Now you can enjoy your nutrition filled, green muffin.