Not only is guacamole perfect for dipping tortillas, crackers, and rice cakes, it's also an excellent addition to salad and vegetable dishes, and makes a great sandwich spread.
Although high in calories, avocados have exceptional health benefits.  Add onion, garlic, lime, tomato, and sea salt to the mix, and you've got an incredibly delicious, highly nutritious food.  If you've never tried guacamole before, we highly suggest you give this recipe a try!
Total prep time: 10 min
Yield: Approx. 5-6 cups
Ingredients
4 ripe avocados
1/2 small onion
1 clove finely chopped garlic
1/2 lime
1 small tomato (chopped)
Sea salt
Optional ingredients:  chopped black olives, organic pepper, chopped cilantro
Directions
1. Remove avocado skin, and place avocado flesh in mixing bowl.  Use a large fork or potato masher to mash avocado in to a smooth consistency.
2. Finely chop onion, garlic, and tomato and place in small bowl.
3. Add onion, garlic and tomato to avocado mixture and thoroughly mix all ingredients together.
4. Add 1/2 to 1 teaspoon of sea salt, and squeeze1/2 of a lime in to mixture, and continue mixing until even consistency is reached.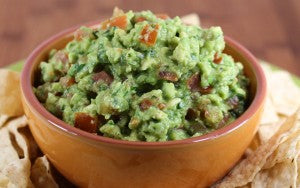 Nutritional Information
Serving size: 1/4 cup
Calories: 112
Fat: 10g
Carbohydrates: 6.5g (0.3g sugar)
Protein: 1.4g
Please try this recipe and let us know how you liked it by leaving a comment below!