Did you know that you can make your own delicious tasting coconut milk in about 10 minutes using nothing more than some filtered water, a couple cups of organic dried coconut, and a few kitchen utensils? It's so easy in fact that our 8 year old daughter Leah helped us create this video outlining the exact steps required:
Benefits of Homemade Coconut Milk
The main benefits of making your own coconut milk are:
Cost (50-75% less expensive)
Ingredients (100% preservative-free, no carrageenan like most commercial brands)
Full control over flavour, sweetness etc.
The entire process from start to finish takes only about 8-10 minutes if you have all of the ingredients and tools handy.  Even those of you that aren't comfortable in the kitchen need not worry as there really is no way you can go wrong in the process.
Tools & Utensils
High powered blender
Nut milk bag
Measuring cups / spoons
large bowl
Glass containers
Ingredients
2 cups organic dried coconut (unsweetened)
4 cups filtered water
**Optional:  Raw cacao powder, liquid or powdered vanilla.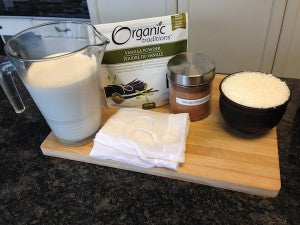 Directions:
1 – Heat 4 cups of water.  **Make sure water is not too hot
2 – Mix water with 2 cups of organic dried coconut and blend for 2-4 minutes.  Mixing time will depend on the power of your blender.
3 – Once blending is complete, place nut milk bag over large bowl and carefully pour blended coconut mixture in.
4 – Squeeze all liquid out of nut milk bag.  Pour coconut milk from bowl in to glass container with lid.
5 – If desired, add natural flavour.  Vanilla powder or liquid, cacao powder, and clover honey are all excellent choices.  Blending small amounts of frozen blueberries or strawberries can be
delicious.
Refrigerate in a sealed glass container for 7-10 days.  Since there are no preservatives, the milk and water will naturally separate over time so be sure to shake the bottle before serving.
So there you have it-an extremely simple way to make a delicious and healthy dairy milk alternative in under 10 minutes!
Have you made your own coconut milk from home?  Please let us know how it turned out by commenting below!