Here is one of our favourite wheat-free bread recipes. It's easy to make, has a nice texture, and tastes great!
Why we like it:
It's wheat / gluten free
Has decent amounts of protein per serving
Contains omega 3 fatty acids
Plenty of healthy fats from the egg, coconut oil, and flaxseed powder.
Most importantly, tastes fantastic!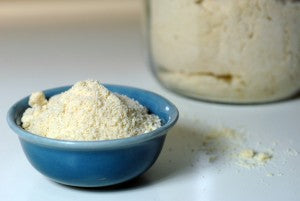 You'll need:
2 cups almond flour
2 tablespoons coconut flour
1/4 cup organic flax powder
1/2 teaspoon baking soda
1/4 teaspoon sea salt
5 eggs
1 tablespoon coconut oil
1 tablespoon raw honey (we used Wedderspoon Manuka honey which has some additional health benefits not found in traditional raw honey.)
1 tablespoon liquid vanilla extract
1 tablespoon lemon or lime peel shavings
In addition to the above ingredients, you will also need a loaf pan. The one we used measured 7.5 x 3.5 inches.
What to do:
First, preheat your oven to 350 degrees C.
1) Add all dry ingredients to a mixer, high powered blender, or food processor and mix together for a few seconds.
*If you have a high powered blender like a Blendtec or Vitamix you can add all of the ingredients at the same time, though you may find that working a spatula around the inside will be required in between blend.
2) Add all wet ingredients and mix thoroughly.
3) Transfer mixture in to loaf pan.  We lined it with parchment paper to make removal easy and clean.
4) Bake at 350 degrees C for 30 minutes.
5) Remove pan and let sit.  Serve when cooled.
Feeling adventurous? Maybe you can make this recipe even better! Give it a try and let us know how it goes by commenting below…