Here is another simple dessert recipe that's quick and easy to make if you have a blender.
It combines sprouted quinoa and raw cacao powder (two powerful super foods), and is gluten / sugar free.
Once you've cooked the quinoa, you can simply add all of the ingredients together and blend them.
Who ever said brownies couldn't taste amazing and be healthy too?
Total prep time: 6 min
Total cook time: 30 min
Yield: 9 squares
Ingredients
3/4 cup xylitol
1/2 cup organic sprouted quinoa
1/2 cup organic cacao powder (can also use carob powder)
1/4 cup nut milk (almond, coconut, hemp or rice milk)
2 eggs
2 tbsp avocado oil
1 tsp baking powder
1 tsp liquid vanilla extract
Directions
1. Cook quinoa – boil 1 1/2 cups of water in a small pot, stir in quinoa.  Reduce heat to low, and cover for approximately 20 min. Remove from burner and let stand for 5 min.  Transfer to mixing bowl, and let cool to room temperature.
2. Add all ingredients to mixing bowl and mix thoroughly.
3. Add mixture to 8 inch / 2 litre baking pan, and bake at 350 degrees ferinheight for 30-32 minutes.
4. Remove from oven and cool.  Cut in to 9 squares.  Serve with strawberries, or your favourite fruit.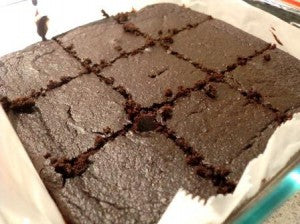 Nutritional Information
Serving size: 1 brownie
Calories: 163
Fat: 5.4g
Carbohydrates: 11g (0.4g sugar)
Protein: 4g
Please try this recipe and leave some feedback below!